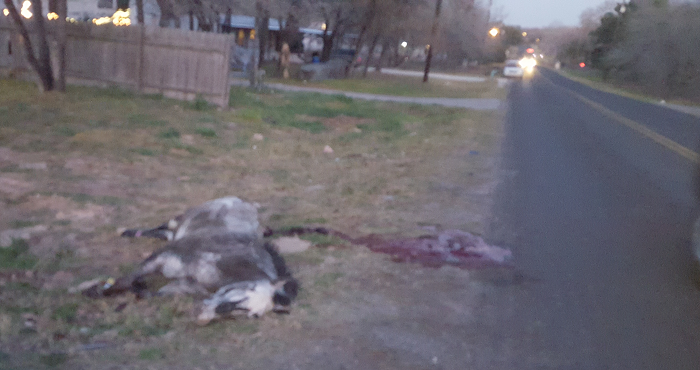 Early in the evening on February 16, 2016 a horse was killed at the intersection of Waterwood Pass Drive and Silver Chalice.
The body of the horse was alongside the road, only a few yards from the stop sign of the northern corner of the intersection.
When Sandy Oaks News arrived on the scene at 7:00pm City Marshal Jesse Gutierrez and Alderman BJ Gillespie were present.  Gillespie didn't comment on the incident and the Marshal only stated he didn't know what had happened.
A young man was witnessed being taken into custody by a Bexar County Sheriff Deputy.
Update: February 23
Sandy Oaks News requested information from Alderman Gillespie on the incident through email.  Gillespie responded with "the official BCSO report would probably be your best bet for information."
On social media, Gillespie stated
This beautiful, impressive horse was being ridden by a person who made the decision to place himself, his horse, and anyone walking or driving in the vicinity, in danger.  Poor human choice… One of the busiest streets, busiest intersections in the city; mostly gray horse; sun setting.  What could go wrong?

Fortunately no one was sitting in the passenger seat of the truck or this would have been even more tragic. [sic]
In response to the same thread, Luis Diaz stated
Well there are several versions of what happened, but the man who was hit is a professional rider, has many years experience. For those who want to know, he was hit 15 feet from a stop sign.  This could have been your child on a bike or a pedestrian walking or jogging. Let's be grownups here, it don't matter if it was a horse this could have been a human life the man behind the wheel was wrong for speeding.  The man who was riding suffered broken ribs, neck bruises, and a head concussion. [edited for punctuation]
Sandy Oaks News attempted to reach Diaz through email, but could not get a reply.
It is not yet known what happened to the horse, who was arrested, or who the rider of the horse was.