The community book exchange held its last exchange on Wednesday, March 30, 2016.
The book exchange was originally organized from the Good Neighbors group, but eventually was run completely by Catherine Rendahl.
Rendahl began hosting the exchange on her front porch starting in June of 2015.  Eventually she had so many books that she decided to clear out her front room and host the exchange from inside her house.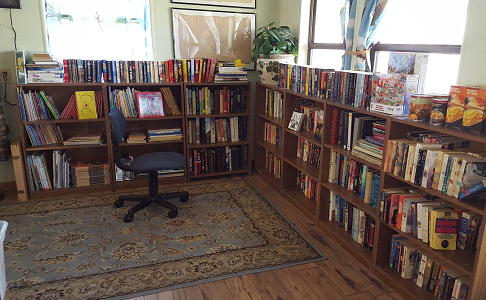 According to Rendahl, the book exchange is closing due to lack of interest in the community.  She said a lot of people donated books, but very few people ever came to take books away.  At the last exchange, only 1 couple and their 3 year old came to take books.
The children's books have been donated to the Elmendorf Community Library, a private group started by Darlene Hicks.  The location is in the City of Elmendorf, located at 203 Bexar Avenue, Elmendorf, TX 78112.  Here are their hours of operation:
Monday closed
Tuesday 5pm-7pm
Wednesday closed
Thursday 4pm – 7pm
Friday 4pm – 7pm
Saturday 12 – 4pm
Sunday 12 – 3pm
Rendahl said BJ Gillespie has offered to personally store some of the remaining books in case the city ever starts a library.  Others will be donated to Goodwill.